Liquidlogic Delta V
White Water Kayak
A creek boat that performs well in just about all situations. Smooth bow rocker, soft edges and a short stern platform make for a responsive package. Add in the unique 'Turbo Booster' design and you have a creeker that screams performance!
Details
Features
Dimensions
Liquidlogic Delta V
Taking design features from the Jefe series with a touch of Braaap, the Delta V is a creek boat that holds itself well in just about every situation you may find yourself in! Soft edges in combination with a nice smooth bow rocker and a shorter stern platform see's the Delta V handle responsively to take you down your intended line. The stern features a unique 'Turbo Booster' design which, when engaged' helps to thrust the kayak forwards after a drop. The nimble hull allows the paddler to perform the tighest of maneovures with relative ease. The deck is designed to be quick-draining so that you're not bogged down in the heavy water. The Delta V will perform best for paddlers between 68 and 113kg.
The Delta V will be a big hit with novice paddlers and a hull design that the experienced paddlers will keep coming back too.
Features
The unique stern Turbo Booster features accelerate the kayak forward after drops using naturally occurring flows.
Center-line deck peak providing ultra-stability and directional locking when surfacing.
Side edge in the bow to provide ample foot room for comfort all day on the water.
Braaap style bow rocker for smooth maneuvering.
Cockpit area displacement hull design is tried and true with its lineage directly coming from the Jefe Series. Finding the right seat placement for your center of gravity will allow you to spin on a dime and hold your speed.
Stern features allow for little negative impact from cross current.
The kick rocker comes from slalom roots to provide controlled speed and agility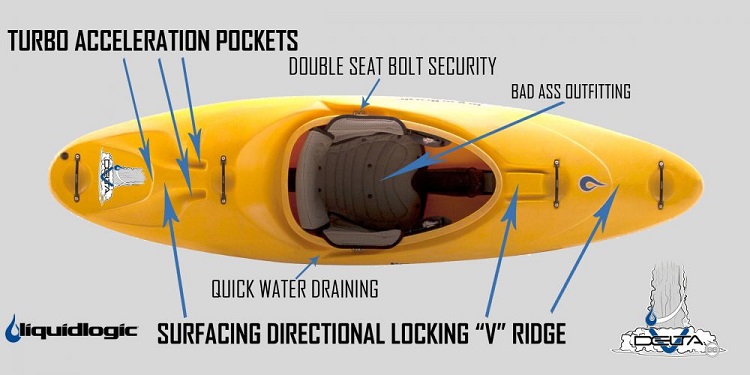 Dimensions
Length: 8' 6" / 259 CM
Width: 27" / 69 CM
Cockpit Length: 34.5" / 87.6 CM
Cockpit Width: 21" / 53 CM
Weight: 49lbs / 22kg
Volume: 88 Gal / 333L
Manufacturers Weight Range:

68-113kg

Optimum weight capacity may differ - please contact us if you are unsure about the suitability of the Liquidlogic Delta V for your weight
Give us a call on 01726 862798 if you have any questions about the Liquidlogic Delta V