Roof Rack Accessories
Accessories for use with roof racks, including straps, pads and security devices..
CSG Roof Rack Straps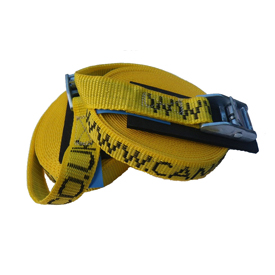 Strong and durable roof rack straps that are ideal for securing canoes & kayaks to car roof racks. Includes a padded protector on the cam buckle Sold as a Pair. 3m length perfect for most single and tandem sit-on and sit-in kayaks. 5m length perfect for larger canoes and wider kayaks.
3m Price: £9.31 (RRP £10.95 - Saving £1.64)
5m Price: £11.86 (RRP £13.95 - Saving £2.09)

Warning: require_once(/home/csgomscouk/public_html/basketapi.php): failed to open stream: Permission denied in /home/cornwallcanoes/public_html/ayrbasket/basket.php on line 750

Fatal error: require_once(): Failed opening required '/home/csgomscouk/public_html/basketapi.php' (include_path='.:/usr/lib/php:/usr/local/lib/php') in /home/cornwallcanoes/public_html/ayrbasket/basket.php on line 750