Old Town Penobscot 164 & 174
Popular family touring canoe
Touring canoe designed for use on inland waters. Plenty of capacity for loading up with kit or additional small passengers, making this a great family canoe. Available in two sizes and two colours.
Product No Longer Available
Please see our range of Canadian Canoes for suitable alternatives.
More info
Features
Dimensions
Construction
Old Town Penobscot 164 & 174
The Old Town Penobscot has been designed for touring, due to its square profile bow, stern and extra width this has increased the stability and forward tracking. This is a perfect family canoe or for those planning more extended canoeing trips, the Penobscot is ideal for those touring inland waters such as lakes, canals, lochs as well as sheltered estuaries.
Standard features include dark stained web seats, vinyl gunwales, polyethylene decks with grab handles, carrying yoke and thwart. The Penobscot is available in 2 sizes. The 174 (17ft 4") is the larger of the two, the added stability due to its size makes it perfect for those family canoeing trips, it can also be fitted with two extra seats (4 in total).
The Penobscot 164 (16ft 4") can accommodate 1 extra seat (3 in total) making it better suited for smaller families or solo paddling.
Features
Nylon web seats
Vinyl gunwales
Comfortable carrying handles
Ash thwart and yoke
Dimensions
Penobscot 164
Length: 16' 4" / 5.0 m
Width: 37.5" / 95.3cm
Width at 4" Waterline: 33.75" / 85.7 cm
Bow Height: 20.25" / 51.4 cm
Depth: 14" / 35.6 cm
Weight: 75 lbs / 34.0 kg

Manufacturers Weight Capacity: 567kg

Optimum weight capacity may differ - please contact us if you are unsure about the suitability of the Old Town Penobscot 164 & 174 for your weight
Penobscot 174
Length: 17' 4" / 5.3m
Width: 36" / 91.4cm
Width at 4" Waterline: 34" / 86.4 cm
Bow Height: 22" / 55.9 cm
Depth: 14" / 35.6 cm
Weight: 83 lbs / 37.6 kg
Max Load Range: 1,450-1,500 lbs / 657.7-680.4 kg
Construction
Three Layer Polyethylene
The Old Town Penobscot 164 & 174 are made from three Layer Polyethylene which has been used to manufacture canoes for decades. Made up of three layers, an inner layer of close cell foam is sandwiched between two layers of high-density polyethylene ensuring that the canoe has superior strength and durability while still remaining buoyant. The three layer polyethylene provides a lighter, stiffer and stronger build than that of a single layered canoe.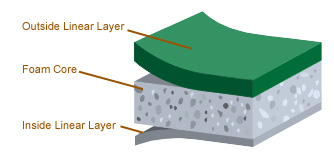 Give us a call on 01726 862798 if you have any questions about the Old Town Penobscot 164 & 174