Feel Free Moken 12.5 V2
Stable Fishing Kayak
This tried and tested classic offers stability and comfort and has undergone a facelift for 2020 to further improve this great all-rounder. New features include an adjustable seating system and removable sonar pod for fish finder installation!
More info
Features / Spec
Recommended Kit
Colours
Delivery
Feelfree Moken 12.5 V2 Angler
The Moken 12.5 has long been a popular model from Feelfree, particularly for first time kayak anglers due to it's impressive stability. The wide hull offers a stable and confortable platform to fish from, even in choppy waters. This makes the Moken 12.5 a great choice for inshore and coastal waters in calm-to-moderate conditions. It also performs great on flatwater including lakes, canals and reserviors. Stand-up fishing techniques can even be undertaken by the confident on calm water thanks to the stable hull and grippy standing platform in the cockpit.
Whilst the Moken 12.5 is a tried and tested design, this model has undergone a major facelift for the 2020 season bringing a raft of new features to make this into the ultimate all-rounder. The Moken 12.5 V2 is now equipped with a comfortable raised seating system that offers plenty fo adjustability so that you can find the perfect position to paddle and fish from. A removable Sonar Pod is now standard in the cockpit, making fish finder installation easy - the fish finder unit, transducer and battery can all be housed on or within the Sonar Pod and easily removed at the end of a session.
Strong accessory tracks are fitted alongside the foot well and rear tank well making it easy to add accessories such as additional rod holders and camera mounts. Storage areas are plentiful with a large rear tank well that will comfortably take a storage crate of fish bag. The easy-open bow hatch will carry a fold-up trolley such as the C-Tug. A small screw hatch is also positioned behind the seat for access to the hull. The Moken 12.5 comes 'rudder-ready' with tubing installed in the hull ready to take rudder lines with the optional rudder kit from Feelfree. This further enhances the handling and performance of this kayak. Two rod holders are fitted as standard and the bow even includes rod tip protectors for storing rod against the hull when exploring areas of heavy vegetation or perhaps landing through surf. The famous 'wheel-in-the-keel' makes moving the kayak on firm surfaces easy, but a proper kayak trolley is recommended for longer distances or trolleying over sand.
A brilliant all-rounder loaded with features to make customisation easy and make your day on the water more enjoyable.
Features
Removable Sonar Pod
Adjustable High Backrest Seat
Adjustable Footrests
Large Oval Hinged Bow Hatch
Drinks Bottle Holder
Uni Track System
Front, rear and side carry handles
2 x Flush Mount Fishing Rod Holders
Rear hatch
Rear tank well
Bungee straps
Wheel in keel
Grippy Standing Pads
Drain bung
Dimensions
Length: 3.83m
Width: 81cm
Weight: 35kg

Manufacturers Weight Capacity: 190kg

Optimum weight capacity may differ - please contact us if you are unsure about the suitability of the Feelfree Moken 12.5 V2 Angler for your weight
Recommended Accessories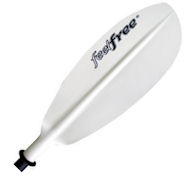 Feelfree Day Tourer Paddle - Alloy Shaft - 220cm
High quality paddle with strong asymetric blades on an alloy shaft with drip rings and index grip.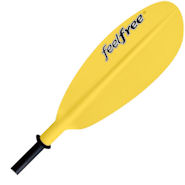 Feelfree Day Tourer Paddle - Glass Shaft - 220cm
Same blade construction with a lighter weight fibreglass shaft.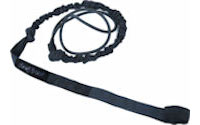 Feelfree Paddle Leash
Elasticated paddle leash, attach one end to the paddle shaft and the other to the kayak.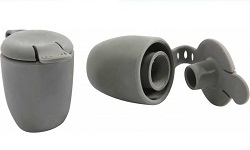 Feelfree Scupper Plugs - Pair
Supplied in Pairs, these Scupper Plugs are compatible with the entire Feelfree kayak range. They also feature a pop top lid to allow water drainage without having to completely remove the plug from the scupper hole.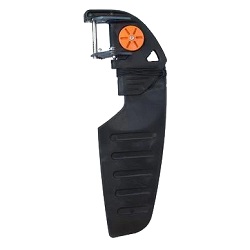 Feelfree Beavertail Rudder Kit
Beavertail Rudder System compatible with the 2019-onwards V2 Lure Series and Moken 12.5. Supplied as a complete kit with installation instructions to fit a rudder to your Feelfree Kayak.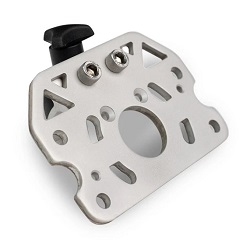 Feelfree Uni Track Mounting Plate
A quick release mounting plate compatible with the track systems of the Feelfree Moken and Lure series. Allowing you to attach various accessories to the slide track without drilling any holes.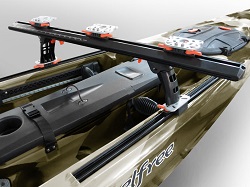 Feelfree Uni Bar - Deluxe
The Uni Bar is an accessory mounting dashboard that attaches to the existing Uni Track System of your Feelfree Kayak. This Deluxe version is supplied complete with 3 Uni Track Mounting Plates and 5 Track Hooks for gear attachment points.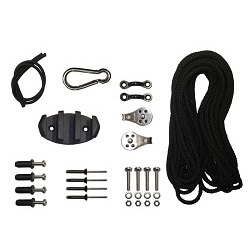 Kayak Anchor Trolley Components
An Anchor Trolley is an essential item when anchoring a kayak. It allows you to shuttle the anchor line to the bow or stern of the kayak so that you can safely anchor with the kayak in line with the prevailing tide, chop, wind and swell conditions. We sell everything you need to make your own Anchor Trolley system.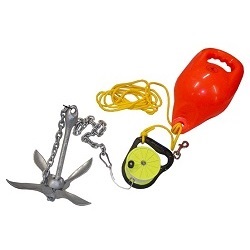 Quick-Release Kayak Anchor System Components
We sell everything you need to make your own Quick-Release Kayak Anchoring System. Please note you will also need an anchor trolley system with a zig zag cleat to use an anchor system on your kayak
Delivery of Clothing, Equipment, Accessories, Paddles & Inflatable Boats/Boards:
We offer a delivery service throughout the UK & Ireland. Most deliveries arrive within 1-3 working days, although some deliveries may take longer.
Delivery of Kayaks & Canoes:
We offer a delivery service on most kayaks & canoes covering most of the UK & Ireland - Some products and areas are excluded. We provide a bespoke delivery service for canoes and kayaks to improve the level of service and minimise the risk of damage.
Most Kayak & Canoe deliveries arrive within 1-2 weeks (not guaranteed) from confirming your order. The majority of Canoe & Kayak deliveries will be quicker than this but some may take longer.
Delivery of Kayaks or Canoes that exceed 4.5m (450cm) is temporarily unavailable - Due to length restrictions with our shipping agents.
For further information, please read our Delivery Information page.
Click & Collect - Stores Nationwide:
We also offer a collect from store service. Collection for orders placed online can be made from any of our Canoe Shops UK Stores.
For full details on our Click & Collect service, please see: Nationwide Click & Collect
Give us a call on 01726 862798 if you have any questions about the Feelfree Moken 12.5 V2 Angler