Hobie Mirage Passport 10.5 2020 & 2022
Affordable Hobie MirageDrive Pedal Kayak
The Mirage Passport 10.5 brings a simplified design with the essential features at a low price point. Enjoy all the benefits of Mirage Drive pedal power in a compact and affordable package.
2020 Model (Last One Remaining!):£1,399.00 (RRP £1,499.00 - Saving £100.00)
2022 Model:£1650.00
Details
Dimensions
Features
Colours
Video
Accessories
Delivery
Hobie Mirage Passport 10.5 2022
The Hobie Passport 10.5 offers all the benefits of the Mirage Drive pedal system in a simplified kayak at fantastic price point. The Passport 10.5 is a compact and nimble kayak designed for those wanting pedal power without all the extra accessories found on the premium range of Mirage Drive kayaks. Lightweight and easy to move around off the water, the Passport features a two-tone thermoformed hull, with injection-moulded mirage drive well. Simply plug in the Mirage Drive and pedal away! At 10.5ft long the Passport is easily handled by adults, teenagers and children alike. The hull is stable and tracks well in a straight line. Great for general touring and cruising as well as for a spot of fishing on calm waters.
The 2022 Passport 10.5 is equipped with a Mirage Drive GT with Kick Up Fins. This drive system keeps things simple for ease of use and for easy maintenance. The pedal crank arms are adjustable to allow for users of various heights to use the Passport. Fitted with Kick Up Fins that will automatically kick up out of harms way should you strike an object beneath the water - this greatly reduces the chance of damaging your fins. The Passport comes with a aluminium frame mesh seat with tilt adjustment for a comfortable pedaaling experience. The seat can also be used as a beach chair.
The Passport has a rudder system for steering the kayak whilst pedalling. The rudder is manually deployed and hauled when launching and landing and is controlled using the steering handle beside the seat. The system uses a push-pull rod design for direct control and ease of maintenance and tuning. There are several storage areas on the kayak with a rear cargo area with bungees, a bow storage area with bungees and a 8in Twist-N-Seal hatch located in front of the seat. Other features include two flush mount rod holders, accessory mounting tracks beside the footwell, carry handles at the bow, stern and sides, and a vertical accessory tube for optional accessories such as the Sail Kit and Bimini.
An affordable option for those wanting their first pedal drive kayak, or for those wanting a Mirage Drive kayak without spending out on the premium range.
Please Note: The 2020 Passport 10.5 comes with a Mirage Drive Classic.

Hobie Passport 10.5 - 2022 Model Top View
Dimensions
Length: 10.5' / 3.20 m
Width: 34" / 0.86 m

Manufacturers Weight Capacity: 147kg

Optimum weight capacity may differ - please contact us if you are unsure about the suitability of the Hobie Mirage Passport 10.5 2022 for your weight

Fitted Hull Weight: 65 lbs / 29.48 kg
Fully Rigged Weight: 75 lbs / 34.02 kg
Features
2021+ Model Only -A simple and easy-to-maintain Mirage Drive with Kick Up Fins. Features Glide Technology (GT) where roller bearings are used at pivot points for a smooth pedalling experience. Kick-Up Fins will automatically kick up out of harms way if you strike an underwater object, thus greatly reducing the chance of damaging your fins. Adjustable pedal crank arms allow users of various heights to use the Hobie Mirage Passport 10.5 2022.
2020 Model Only -A simple and easy-to-maintain Mirage Drive fitted with ST (Square Tip) Fins. Adjustable pedal crank arms allow users of various heights to use the Passport 10.5.
Featuring a breathable mesh fabric, and tilt adjustability for comfort. Optimally mounted at an ideal height for pedalling. Can also be removed for use as a beach chair too!
Accessory tracks make adding gear to your Passport easy! These tracks are compatible with popular track mounts from Yak Attack, Railblaza, Scotty and Ram Mounts. Add fish finder mounts, rod holders, camera mounts and more without drilling into your kayak.
The Twist and Seal Hatch is simple to use and is hinged so you will never have to worry about losing the cover. The hatch allows you to store equipment below deck.
The Passport comes with a simple rudder with a kick-up design. The rudder is controlled via a steering handle beside the seat and this moves the rudder using a push-pull rod design. The rudder blade must be manually deployed and hauled.
Large storage area for all the gear you want to take out with you, with bungee tie downs keep it all secure. Two flush mounted rod holders are also fitted behind the seat.
The Passport comes complete with a two piece alloy shaft paddle that can be used for additional manoeuvrability or for when you are not peddling. When not in use the paddle can be stored in the handy hull paddle holder.
A vertical accessory tube is fitted near the bow for use with the Hobie Sail Kit, Hobie Bimini and other accessory mounts.
Videos
Mirage Passport Quick Start Guide
Introducing the Mirage Passport
Popular Accessories for the Hobie Passport 10.5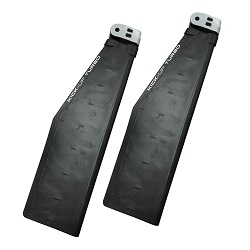 Want to go faster? The Kick Up ST (Square Tip) Turbo Fins are a fin with greater surface area to provide greater resistance through the water giving more thrust! Users report as much as a 10% or more increase in speed through the water. Not only are they faster but you can reach a cruising speed at a lower rate of pedalling thus saving some energy and effort if pedalling over distance. This is one of the most popular upgrades on a Mirage Drive kayaks. This kit is for the Mirage Drive with Kick Up Fins.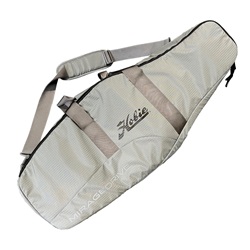 Protect your MirageDrive... and other goods in your car from the drive! This heavy duty Cordura and mesh bag fits the complete MirageDrive with standard fins or the ST Turbo length.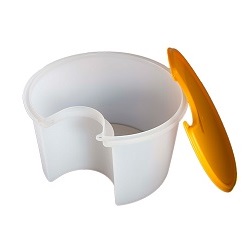 The Hobie Deep Gear Bucket is a large open storage tub that will allow large items of tackle or gear to be stored, such as a camera or small tackle box. This bucket will fit in all Hobie 8" Twist and Seal hatches except from the stern hatch on the Pro Angler kayaks.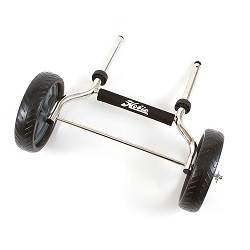 Light weight with durable 26 cm tires and strong spoked wheels. Stainless steel frame. Wheels are easily removable for storage.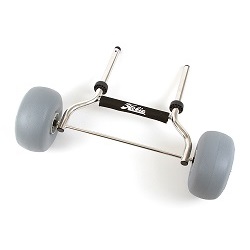 The Trax "2" Cart has 24 cm (blow-molded polyurethane) pneumatic tires. These tires have a high capacity and are very durable! Welded Stainless steel frame.
Delivery
Nationwide delivery available for the Hobie Mirage Passport 10.5 2022. Delivery price will be shown in the shopping basket prior to checkout. For full details on delivery please see: Delivery Information
Click & Collect - Stores Nationwide
Nationwide Click & Collect available for the Hobie Mirage Passport 10.5 2022. Collection for orders placed online can be made from any of our Canoe Shops UK Stores. For full details on our Click & Collect service, please see: Nationwide Click & Collect
Give us a call on 01726 862798 if you have any questions about the Hobie Mirage Passport 10.5 2022