Hobie Pro Angler 12
2022 Model with Mirage Drive 180 V2
The Pro Angler 12 is super stable platform designed specifically for fishing. An impressive list of features includes the Mirage Drive 180 V2, a super comfy Vantage ST seat, rod storage tubes, H-Rails and much more!
PA12 Price:£4350.00
PA12 Camo Price:£4450.00
Details
Dimensions
Features
Colours
Video
Accessories
Delivery
Hobie Pro Angler 12 2022
The Hobie Pro Angler 12 combines a feature filled fishing platform with Hobie's revolutionary Mirage Drive system. It has everything you need to maximize your angling experience without sacrificing comfort, functionality or storage capabilities. This is a super stable fishing platform that allows you to stand-up and fish (providing its calm!). The Pro Angler 12 is propelled through the water using the revolutionary Mirage Drive 180 V2 system - full power pedal drive in forwards... and reverse! The drive system features 'Glide Technology' with roller bearings found on the major pivoting components of the drive, for a smoother and easier pedalling experience. The Mirage Drive 180 V2 comes equipped with the new Kick Up Turbo Fins. Kick Up fins offer worry-free pedalling - should you strike an object with the fins they simply kick up out of harms way to help reduce the risk of damage. Replaceable mounting boards can be found either side of the cockpit to allow easy mounting of fish finders, GPS units, down riggers and more.

The Pro Angler comes loaded with an impressive list of features. The fully adjustable Vantage ST seat keeps you comfortable for long sessions on the water, and includes Boa® System Lumbar Support. H-Rails feature either side of the cockpit and double up as a grab rail and an accessory mounting system. The PA12 even comes supplied with a H-Rail Cup Holder and 2 H-Rail Rod Racks! Further H-Rail accessories can easily be added. Accessory mounting platforms can be found at the bow end of the cockpit and feature the all-new H-Track for easy mounting of accessories, along with gear/tool hanging points.
The Pro Angler 12 has stacks of storage space. There is horizontal storage for up to six rods and two additional vertical rod holders. The large front hatch comes with a hatch liner - making a great place to store your catch for the table. A large rectangular hatch comes supplied with a Pivoting Tackle Management System incorporating 2 Plano tackle boxes. A 8" twist lock hatch features at the stern for even more storage space, and if all that wasn't enough then there is a tackle storage space under the seat too! The large rear tankwell/cargo area will easily take a Hobie Livewell or H-Crate for further bait and tackle storage.
Other features include a retractable rudder system with dual steering from either side of the craft, a tracking skeg for imporved straight line cruising, a 260cm 2-piece paddle with on-hull storage, front and rear carry handles, a sail mount and comes anchor trolley ready the Hobie Guardian Retractable Transducer Sheild - this allows you to raise and lower the transducer plate via a control cord in the cockpit - perfect for deploying large sidescan transducers after launching. The sheild will automatically raise up if the transducer strikes an object. The sheild will work with a wide range of transducer sizes and shapes. The Pro Angler also includes a system of Thru Hull cable seals for waterproof cable routing.
The Pro Angler 12 really is a well kitted out fishing kayak. The PA12 is best suited to flatwater conditions ideally on lakes, rivers and canals, although can be used in calm coastal conditions too. The PA12 is also available in a limited edition Camo colour option.

Hobie Pro Angler 12 - 2022 Model Top View
Dimensions
Length: 3.66 m / 12'
Width: 0.91 m / 36"

Manufacturers Weight Capacity: 227kg

Optimum weight capacity may differ - please contact us if you are unsure about the suitability of the Hobie Pro Angler 12 2022 for your weight

Fitted Hull Weight: 48 kg / 105 lbs
Fully Rigged Weight: 58.29 kg / 128.5 lbs
Vantage Seat Capacity: 159kg / 350lbs
Features
The Hobie kayaks are famous for their Mirage Drive pedal system. This system consists of a pair of pedals that drive two rubber fins side to side to propel the kayak forward. The revolutionary Mirage Drive 180 allows you to pedal in reverse, all at the pull of a toggle! The Mirage System is silent while pedalling and creates no splash, it also allows you to effortlessly pedal the kayak with your feet while keeping your hands free, perfect for fishing and photography.
Equipped with ARC pedal cranks that adjust with the push of a button to accommodate users from child size to tall adults. The drive system features 'Glide Technology' with roller bearings found on the major pivoting components of the drive, for a smoother and easier pedalling experience. Fitted with Turbo Kick Up Fins for worry-free pedalling - if you strike an object with the fins they simply kick up out of harms way to help reduce the chance of damage.
New state-of-the-art design, with 4-way adjustablity for more comfort in the cockpit or on the beach, Enjoy breathability, infinite flexibility and better visibility.
The all-new Hobie H-Rail system's extruded aluminum dodecagon rail provides a strong and corrosion resistant mounting platform to effortlessly mount more gear in more places.
A large rectangular Twist-n-Lock hatch comes supplied with a Pivoting Tackle Management System incorporating 2 Plano tackle boxes. Perfect for keeping all those essential pieces of tackle close to hand.
The Pro Angler 12 comes with a Retractable Rudder System and a drop-down tracking skeg to improve straight line pedalling performance. The rudder and skeg are both easily deployed/hauled and controlled from the seating position.
The Hobie Pro Angler 12 has a large bow hatch for storage and comes with a removable Hatch Liner. The perfect place to store your catch or other bits of kit.
All the kayaks in the Hobie range can take a sail to power your kayak. The optional Mirage Sail Kit attaches to the sail mount on the kayak. The sail maintains speed with or without peddling
A retractable shield protects your fish finder transducer on impact and retracts away for transport and shallow water landings. The built-in transducer mount allows side scanning for optimal fishfinder performance. Pre-installed thru-hull cable plugs allow quick, no-drill, no-glue fishfinder installation. Compatible with a wide-range of popular fish finder transducers.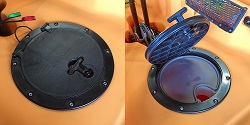 Twist & seal hatch
Twist and seal hatches are simple to use and are hinged so you will never have to worry about losing the cover. The hatches allow you to store equipment below deck.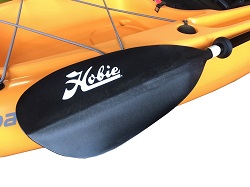 Two-Piece Fibreglass Paddle
Hobie's come complete with a two piece fibreglass paddle that can be used for additional manoeuvrability or for when you are not peddling. When not in use the paddle can be stored in the handy hull paddle holder.
Two flush mount rod holders are fitted to the kayak. These rod holders are ideally placed for transporting your rods whilst on the move on the water. The holders are also handy for carrying a fishing net or safety flag.
Large storage area for all the gear you want to take out with you. Bungee tie downs keep it all secure
Popular Accessories for the Hobie Pro Angler 12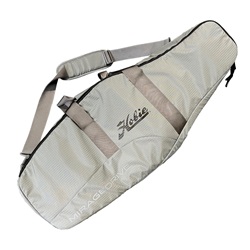 Protect your MirageDrive... and other goods in your car from the drive! This heavy duty Cordura and mesh bag fits the complete MirageDrive with standard fins or the ST Turbo length.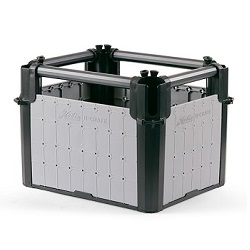 A versatile and super strong storage crate for your fishing kayak, with 4 integrated rod holders and H-Rails for accessory attachment. Includes tie-down straps for a secure fit to most fishing kayaks.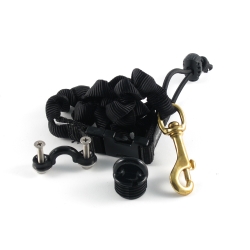 Hobie Mirage Drive Leash Kit
Protect your Mirage Drive from an accidental drop overboard! Includes hardware and instructions for attachment.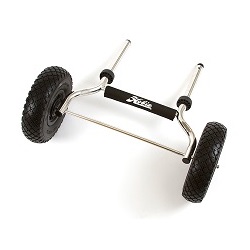 Hobie Plug-In Cart (Heavy Duty)
A Heavy Duty trolley designed for use with Hobie kayaks. Great for transporting heavier kayaks from your vehicle to the water over solid ground and rougher terrian. 225lb Capacity rating.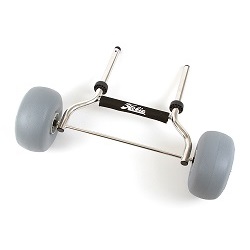 The Trax "2" Cart has 24 cm (blow-molded polyurethane) pneumatic tires. These tires have a high capacity and are very durable! Welded Stainless steel frame.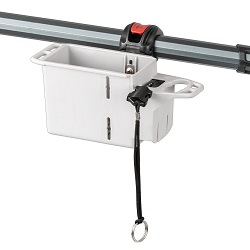 Numerous accessories that attach to the Hobie H-Rail fitted to the Hobie Pro Angler 12 2022. Attach your favourite accessory with a Hobie H-Rail Mount including mounts for Railblaza, Scotty, Ram Mounts, YakAttack and generic Mounting Plates, Rod Holders and Tackle Bins.
Delivery
Nationwide delivery available for the Hobie Pro Angler 12 2022. Delivery price will be shown in the shopping basket prior to checkout. For full details on delivery please see: Delivery Information
Click & Collect - Stores Nationwide
Nationwide Click & Collect available for the Hobie Pro Angler 12 2022. Collection for orders placed online can be made from any of our Canoe Shops UK Stores. For full details on our Click & Collect service, please see: Nationwide Click & Collect
Give us a call on 01726 862798 if you have any questions about the Hobie Pro Angler 12 2022