Hobie Mirage Compass Duo
With Mirage Drive GT
The popular Compass is now available in a tandem option, equipped with two Mirage Drive GT's and two Vantage Seats. Featuring a stable hull design, large rear cargo area and H-Track accessory mounts. Great for couples and families for general fun, touring and fishing.

2020 Model:£3299.00
Details
Dimensions
Features
Colours
Video
Accessories
Delivery
Finance
Hobie Mirage Compass Duo 2020
After the success of the Hobie Compass, a tandem version is now available.... the Compass Duo.
With a hull design combining the bow from a Revolution and the under-hull and back end of a Pro Angler, the Compass Duo offers stability, manoeuvability and simplicity in a tandem kayak format. The Compass Duo is great for getting out on the water with friends, partners and the family for a day of fun or fishing. The stable yet efficient hull performs great on both inland waters and coastal waters.
The Compass Duo is equipped with two Mirage Drives featuring Glide Technology for a smooth pedalling experience and Kick Up fins, allowing you to pedal without worry - strike an object with the fins and they will simply kick up out of harms way helping to reduce the chance of damaging the fins! Fingertip steering of the kick-up rudder system is easy using a control handle beside the rear sea . The two Vantage Seats feature quick-drying mesh and offers adjustablability for a comfortable day on the water The seat is optimally positioned in height for fishing whilst allowing for space beneath the seat for tackle storage.
The Mirage Compass Duo makes a great tandem fishing kayak. 4 moulded-in fishing rod holders can be found within easy reach of the seats. 4 sections of H-Track are installed either side of the foot well for easy accessory mounting without the need to drill the kayak. The H-Track is compatible with all popular track mounts from Railblaza, Ram Mounts, Yak Attack and Scotty, allowing you to easily fit your fish finder, rod holders, camera mounts and more. Stoprage space is plentiful with the large rear cargo area that will take accessories such as the H-Crate or the Hobie Livewell, and comes with bungee tie-downs. Further gear can be stored beneath the mesh cover on the bow. An 8 inch Twist and Stow hatch is fitted in front of each seat so that you can keep small essentials within easy reach. A flat deck in front of the seats allows for standing in flat calm waters, for sight fishing and casting.
Fitted with the Lowrance-Ready system, which makes fish finder installation easy using a large transducer scupper under the kayak and a system of deck seals for waterproof cable routing. The deck seals are supplied seperately allowing for installation where suits you best.
A great option for family fun, sharing your fishing trip or mini-adventures with friends on the water!

Hobie Compass Duo - Top View
Dimensions
Length: 13' 5" / 4.11 m
Width: 35" / 0.89 m

Manufacturers Weight Capacity: 215.46kg

Optimum weight capacity may differ - please contact us if you are unsure about the suitability of the Hobie Mirage Compass Duo 2020 for your weight

Fitted Hull Weight: 92 lbs / 41.73 kg
Fully Rigged Weight: 127 lbs / 57.61 kg
Features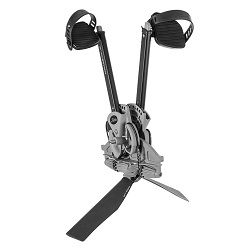 Mirage Drive With Glide Technology + Kick Up Fins
The Hobie kayaks are famous for their Mirage Drive pedal system. This system consists of a pair of pedals that drive two rubber fins side to side to propel the kayak forward. The drive system features 'Glide Technology' with roller bearings found on the major pivoting components of the drive, for a smoother and easier pedalling experience. Kick Up fins automatically kick up if the fins strike an object, helping to reduce the chance of damage. The Mirage System is silent while pedalling and creates no splash, it also allows you to effortlessly pedal the kayak with your feet while keeping your hands free, perfect for fishing and photography.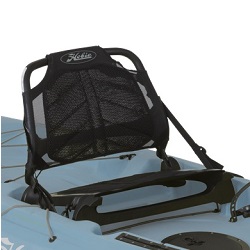 Compass Vantage Seat
Featuring a breathable mesh fabric, and plenty of adjustability for comfort. Optimally mounted at an ideal height for fishing. There is space beneath the seat for tackle storage. Can also be removed for use on-shore too!
The Compass Duo is equipped with 2 x Vantage Seats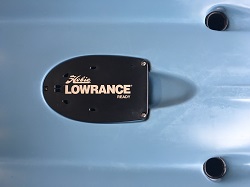 Lowrance Ready Scupper
A built-in transducer scupper mount comes fitted as standard. This makes fish finder installation quick and easy!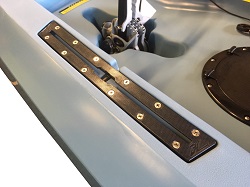 H-Track
H-Track slide tracks make accessorising your Compass easy! These tracks are compatible with popular track mounts from Yak Attack, Railblaza, Scotty and Ram Mounts. Add fish finder mounts, rod holders, camera mounts and more without drilling into your kayak.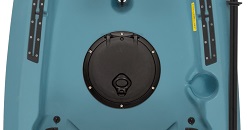 Twist & seal hatch
Twist and seal hatches are simple to use and are hinged so you will never have to worry about losing the cover. The hatches allow you to store equipment below deck. The hatch has been re-designed on 2020 models to allow for even easier opening and closing.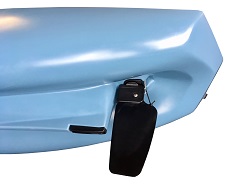 Retractable Rudder System
The Compass comes with an under-hull rudder with a spring-loaded kick-up design. The rudder is controlled via a steering handle beside the seat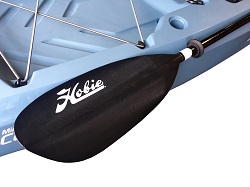 Two piece paddle
Hobie's come complete with a two piece fibreglass paddle that can be used for additional manoeuvrability or for when you are not peddling. When not in use the paddle can be stored in the handy hull paddle holder. One paddle is supplied with the Compass Duo.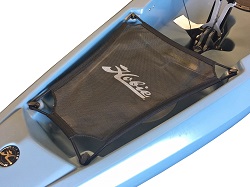 Front Storage Area
A mesh cover at the bow allows for storage of items on the deck beneath the cover.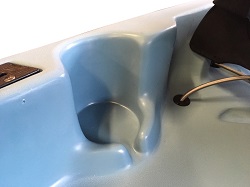 Cup holder
A cup holder is conveniently placed within easy reach.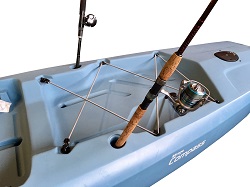 Fishing Rod Holders
Molded in to the hull, these rod holders are ideally placed for rods. The holders are also handy for carrying a fishing net or safety flag.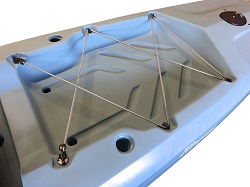 Cargo Area
Large storage area for all the gear you want to take out with you. Bungee tie downs keep it all secure
Popular Accessories for the Hobie Compass Duo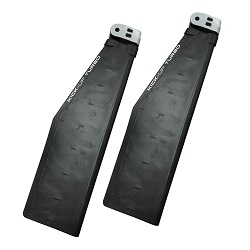 Turbo Fin Kit for 2020 Model Only: Want to go faster? The Kick Up ST (Square Tip) Turbo Fins are a fin with greater surface area to provide greater resistance through the water giving more thrust! Users report as much as a 10% or more increase in speed through the water. Not only are they faster but you can reach a cruising speed at a lower rat eof pedalling thus saving some energy and effort if pedalling over distance. This is one of the most popular upgrades on a Mirage Drive kayaks. This kit is for the new 2020 Mirage Drive GT with Kick Up ST Fins only.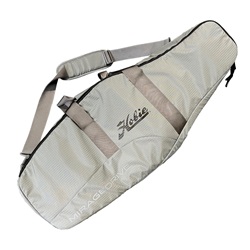 Protect your MirageDrive... and other goods in your car from the drive! This heavy duty Cordura and mesh bag fits the complete MirageDrive with standard fins or the ST Turbo length.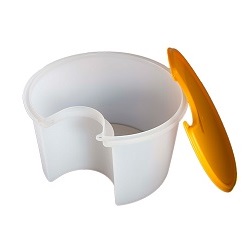 The Hobie Deep Gear Bucket is a large open storage tub that will allow large items of tackle or gear to be stored, such as a camera or small tackle box. This bucket will fit in all Hobie 8" Twist and Seal hatches except from the stern hatch on the Pro Angler kayaks.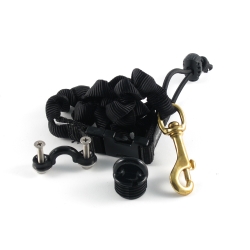 Hobie Mirage Drive Leash Kit
Protect your Mirage Drive from an accidental drop overboard! Includes hardware and instructions for attachment.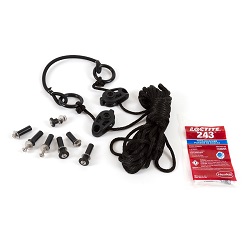 Hobie Anchor Trolley Kit for Compass Duo
An anchor trolley kit allows you to set your anchor line or drift chute safely from the bow or stern of your kayak. Supplied as a complete kit with fixings for the Compass.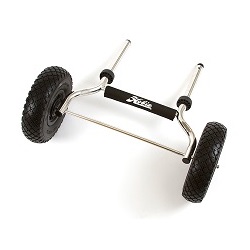 Hobie Plug-In Cart (Heavy Duty)
A Heavy Duty trolley designed for use with Hobie kayaks. Great for transporting heavier kayaks from your vehicle to the water over solid ground and rougher terrian. 225lb Capacity rating.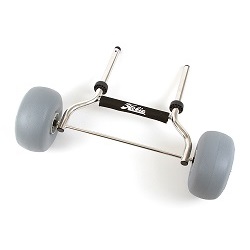 The Trax "2" Cart has 24 cm (blow-molded polyurethane) pneumatic tires. These tires have a high capacity and are very durable! Welded Stainless steel frame.
Delivery
We offer a delivery service for the Hobie Mirage Compass Duo 2020 throughout the UK & Ireland to home and work addresses.
The delivery price will be shown in the shopping basket.
Collection - Click & Collect
Buy a Hobie Mirage Compass Duo 2020 online from our website and collect from our shop in St Columb Road near Fraddon in Cornwall or you can collect from any branch within the Canoe Shops Group. There is no cost associated with instore collection*.
Our other stores are:
Bournemouth Canoes - Poole
Brighton Canoes - Newhaven
Kayaks & Paddles Plymouth
Manchester Canoes - Warrington
Norfolk Canoes - Norwich
Southampton Canoes - Hampshire
We will contact you to arrange collection upon receipt of you order.
0% Finance Now Available On This Product!
We can now offer 0% Finance on the Hobie Mirage Compass Duo 2020 (0% APR Representitive).
It has never been easier getting on the water. Simply use the Calculator below by selecting the finance option from the dropdown menu and adjusting the deposit amount. Once you are happy with the monthly payment amount click on the 'Launch Loan Application' button, which will direct you to our Finance Companies Application Portal to complete the online application (This usually takes around 4-5 Minutes to Complete). For more information on Finance available: View Full Finance Info.
Give us a call on 01726 862798 if you have any questions about the Hobie Mirage Compass Duo 2020