Hobie Tandem Island Kayak
Sailing Kayak - 2022 Model with Mirage Drive 180
The Tandem version of the popular Adventure Island. Sail it, Pedal it, Paddle it, Fish from it and more! With a 8.4 m² sail, the Tandem Island is the ultimate sailing kayak that is both easy-to-use and great fun for expedition touring, day tripping and fishing adventures.
Details
Dimensions
Features
Colours
Video
Accessories
Delivery
Hobie Tandem Island 2022
The Tandem Island is a versatile two person Trimaran kayak that is designed for sailing but can equally be pedalled or even paddled! It can also be used by one person when sat in the rear seating position.
Unfurl the 8.4 m² / 90 ft² surface area sail from the 5.49 m / 18' tall carbon composite mast and you will unleash the true potential of the Tandem Island and ride the wind with ease! The Tandem Island features fold-out AMAs for lateral stability and a drop-down daggerboard to prevent lateral slipping, making the "TI" a super stable and very capable sailing craft that is easy to use! You can pick up some serious speed in stronger winds but the TI will also sail well in relatively light winds. Despite being over 18ft in length, maneovurability is made easier via the responsive stern rudder, which is controlled by a handle positioned adjacent to the both seating positions. The main sail can be controlled, unfurled and reefed all from the seat, making sailing straight forward and easy. The TI makes a great sailing craft for coastal waters and large inland waters, and will cover long distances with ease. For enhanced performance 'Off-the-Wind', add a Tandem Island Spinnaker and the TI will have a new lease of life!
Simply reef in the sail and use the Mirage Drives to pedal the craft, so that you can continue your adventure or head back to shore when the wind drops! Both seating positions have a Mirage Drive so plenty of speed can be gathered with both in use. The AI features the new Mirage Drive 180 full power pedal drive in forwards... and reverse! Switching between forwards and reverse is as simple and easy as pulling a toggle on the drive system. The drive system features 'Glide Technology' with roller bearings found on the major pivoting components of the drive, for a smoother and easier pedalling experience. The Mirage Drive 180 comes equipped with the new ST Turbo Kick Up Fins. Kick Up fins offer worry-free pedalling - should you strike an object with the fins they simply kick up out of harms way to help reduce the risk of damage. Comfort is ensured for long days on the water by the fully adjutsable Vantage CT seat, which features Boa Lumbar Support.
The Tandem Island is also a very capable kayak for fishing for two. The TI features two moulded-in rod holders and the Lowrance-Ready system. The Lowrance ready system makes fish finder installation easy using a large transducer scupper under the kayak and a system of deck seals for waterproof cable routing. Catch the wind out to the fishing grounds and pedal back, or vice versa. The superior stability allows you to castch fish in comfort, even in ocean swells or choppy conditions. You can also leave the AMAs and AKA bars at home and take just the main hull out for a days touring or fishing.
There is stacks of storage space on the TI and loading up for a multi-day/week expedition, weekend camp or days fishing is no problem. The large bow hatch will swallow plenty of gear for storage in-hull. Three 8 inch Twist-Lock hatches feature at the stern and just forwards of the seat allowing for easy access to the hull for storage. A generous rear tankwell will also take plenty of gear or a storage crate for when you need to load up with gear. Mesh-pockets feature in the cockpit to store the small items you want to keep within easy reach. For loads of extra deck space, add the Tandem Island Trampoline Kit across the AKAs - with the added space you can take the kids too, so it is fun for all the family!
When it comes to docking or storing your TI, the AMAs fold in against the hull at the push of a button. An TI can be transported on a strong and quality roof rack, but custom built trailers are also available to make life easier.
This really is the ultimate in sailing kayaks! Super fun for one, two or more!
Dimensions
Length: 5.64 m / 18' 6"
Width: 0.76 m / 30"
Height (Akas Off): 0.39 m/ 15.5"
Height (Akas On): 0.43 m / 17"
Beam (Amas Folded In): 1.22 m / 4'
Beam (Amas Out): 3.05 m / 10'

Manufacturers Weight Capacity: 272kg

Optimum weight capacity may differ - please contact us if you are unsure about the suitability of the Hobie Tandem Island 2022 for your weight

Fitted Hull Weight: 59 kg / 130 lbs
Fully Rigged Weight: 109 kg / 240 lbs
Mast Length: 5.49 m / 18'
Sail Area: 8.4 m² / 90 ft²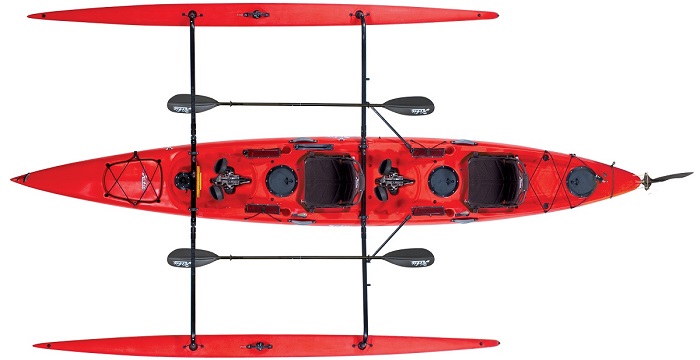 Features
The Hobie kayaks are famous for their Mirage Drive pedal system. This system consists of a pair of pedals that drive two rubber fins side to side to propel the kayak forward. The revolutionary Mirage Drive 180 allows you to pedal in reverse, all at the pull of a toggle! The Mirage System is silent while pedalling and creates no splash, it also allows you to effortlessly pedal the kayak with your feet while keeping your hands free, perfect for fishing and photography.
Equipped with ARC pedal cranks that adjust with the push of a button to accommodate users from child size to tall adults. The drive system features 'Glide Technology' with roller bearings found on the major pivoting components of the drive, for a smoother and easier pedalling experience. 2022 Models are fitted with ST Turbo Kick Up Fins for worry-free pedalling - if you strike an object with the fins they simply kick up out of harms way to help reduce the chance of damage.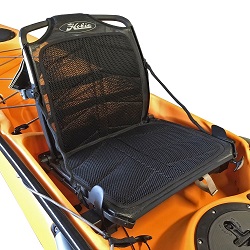 Vantage CT Seat
State-of-the-art design, with 4-way adjustablity for more comfort in the cockpit or on the beach, Enjoy breathability, flexibility and better visibility over the water. The seat also features Boa lumbar support for the ultimate in comfort.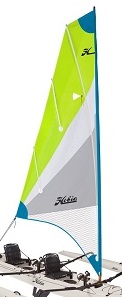 Patented Roller-Furling Sail with Battens and Carbon-Composite Mast
The Tandem Island features a 90 ft² \ 8.4 m² Sail with battens. The sailing rig features a carbon composite two-piece mast and a Roller-Furling system for ease of use.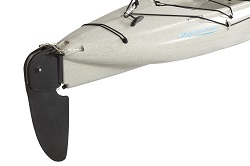 Retractable Island Rudder System
Hobie's come up with a Rudder that is easily controllable with a lever to steer as well as two pull handles on either side of the kayak: a "Down" handle to deploy the rudder and an "Up" handle to lift the rudder out of the water when in shallow water and for landing.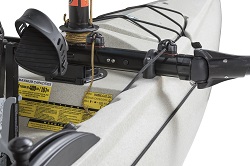 Sail Controls
The sail can easily be controlled from the seating position using the supplied cords and lines, cleat systems and roller-bearing furling system.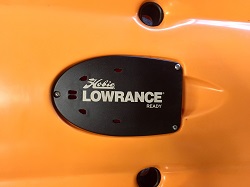 Lowrance Ready System
Built-in transducer scupper mount and pre-installed thru-hull cable plugs come fitted as standard. This makes fish finder installation quick and easy!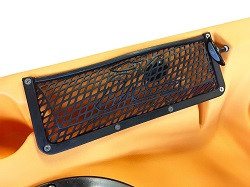 Rubber 'Hookless' Side Pockets
Keep the items you need close and handy like sun cream, snack bar or waterproof camera. The rubberised mesh prevents fouling by fishing hooks if used as a tackle storage space.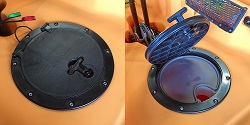 Twist & seal hatch
Twist and seal hatches are simple to use and are hinged so you will never have to worry about losing the cover. The hatches allow you to store equipment below deck.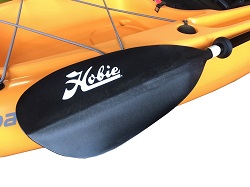 Two-Piece Fibreglass Paddle
Hobie's come complete with a two piece fibreglass paddle that can be used for additional manoeuvrability or for when you are not peddling. When not in use the paddle can be stored in the handy paddle holder.
Molded in to the hull, these rod holders are ideally placed for rods. The holders are also handy for carrying a fishing net or safety flag.
Large storage area for all the gear you want to take out with you. Bungee tie downs keep it all secure
Retractable centreboard to increase lateral stability and prevent slipping in the wind whilst at sail.
Two Color-Coordinated Amas
Adds additional stability to your Hobie kayak. Great to use when sailing, fishing, standing when sight-fishing and shooting photos.
Four Detatchable Akas with Carrying Bag
Removable akas with a carry bag for storage.
Popular Accessories for the Hobie Tandem Island
Delivery
Collection from store only.
We may be able to provide a local delivery service from one of our stores using one of our company vans. Please call us on 01726 862798 to discuss delivery options.
Give us a call on 01726 862798 if you have any questions about the Hobie Tandem Island 2022