Hobie Oasis
Tandem Pedal Drive Kayak
A sleek and fast tandem kayak featuring a Mirage Drive 180 system for both kayakers. Ideal for anglers, nature watchers and for touring and exploring inland and on the coast. Includes the new Mirage Drive 180 with Kick Up Fins.
Details
Dimensions
Features
Colours
Videos
Accessories
Delivery
Hobie Oasis 2022
The Hobie Oasis tandem is the fastest tandem kayak in Hobie's Mirage range. The Oasis was designed for covering longer distances at the water, for touring and fishing. With two Mirage Drives in use and a sleek 14ft 4in length, the Oasis really is a speed machine! Whilst being sleek, the Oasis does not lack in stability and will comfortably take two mid-sized kayakers and enough gear for a long day session or multi-day camping/fishing trip.
The Oasis performs well in a variety of conditions, from calm inland lakes and waterways to moderate coastal and more demanding open sea conditions. Either person can pedal it, paddle it or sail it (with optional sailing kit). You can also enjoy it solo with a single kayaker in the rear seat. The fingertip steering of the twist-n-stow rudder system offers the user hands free travelling, ideal for fishing, photography or bird watching. Steering controls can be found alongside each seat allowing either user to control the rudder system.
The Oasis is propelled through the water using the all-new revolutionary Mirage Drive 180 system - full power pedal drive in forwards... and reverse! Switching between forwards and reverse is as simple and easy as pulling a toggle on the drive system. The drive system features 'Glide Technology' with roller bearings found on the major pivoting components of the drive, for a smoother and easier pedalling experience. The Mirage Drive 180 comes equipped with the new Kick Up Fins. Kick Up fins offer worry-free pedalling - should you strike an object with the fins they simply kick up out of harms way to help reduce the risk of damage.
Comfortable seating is ensured by the Vantage CT seats. These are fully adjustable to allow you to get into a comfortable pedalling position and also feature Boa® System Lumbar Support.
This is the perfect tandem kayak for those looking for performance, speed and comfort for longer trips on the water.
The Hobie Oasis comes with 2 x Hobie Mirage Drive 180 Systems with Kick Up Fins, 2 x Vantage CT seats, paddle, rudder system, Twist-Lock hatches, Sail Mount and more!!

Hobie Oasis - Top View
Dimensions
Length: 4.42m / 14' 4"
Width: 0.84 m / 34"
Height: 0.48 m / 19"

Manufacturers Weight Capacity: 249kg

Optimum weight capacity may differ - please contact us if you are unsure about the suitability of the Hobie Oasis 2022 for your weight

Fitted Hull Weight: 42 kg / 93 lbs
Fully Rigged Weight: 58 kg / 127 lbs
Features
The Hobie kayaks are famous for their Mirage Drive pedal system. This system consists of a pair of pedals that drive two rubber fins side to side to propel the kayak forward. The revolutionary Mirage Drive 180 allows you to pedal in reverse, all at the pull of a toggle! The Mirage System is silent while pedalling and creates no splash, it also allows you to effortlessly pedal the kayak with your feet while keeping your hands free, perfect for fishing and photography.
Equipped with ARC pedal cranks that adjust with the push of a button to accommodate users from child size to tall adults. The drive system features 'Glide Technology' with roller bearings found on the major pivoting components of the drive, for a smoother and easier pedalling experience. Fitted with ST Kick Up Fins for worry-free pedalling - if you strike an object with the fins they simply kick up out of harms way to help reduce the chance of damage.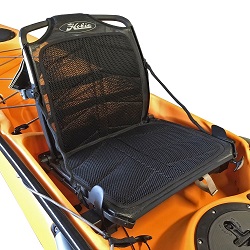 Vantage CT Seat
State-of-the-art design, with 4-way adjustablity for more comfort in the cockpit or on the beach, Enjoy breathability, flexibility and better visibility over the water. The seat also features Boa lumbar support for the ultimate in comfort.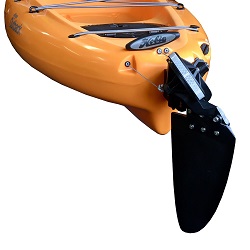 Twist-N-Stow Rudder System
Hobie Kayaks come with a Twist-N-Stow Rudder that is easily controllable with a lever located beside the seat. Two pull handles are found on either side of the kayak: a "Down" handle to deploy the rudder and an "Up" handle to lift the rudder out of the water when in shallow water and for landing.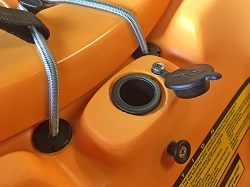 Sail Mount
All the kayaks in the Hobie range (except Compass) can take a sail to power your kayak. The optional Mirage Sail Kit attaches to the sail mount on the kayak. The sail maintains speed with or without peddling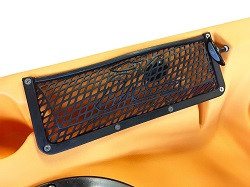 Rubber 'Hookless' Side Pockets
Keep the items you need close and handy like sun cream, snack bar or waterproof camera. The rubberised mesh prevents fouling by fishing hooks if used as a tackle storage space.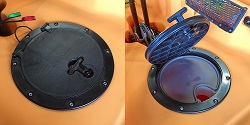 Twist & Seal Hatch
Twist and seal hatches are simple to use and are hinged so you will never have to worry about losing the cover. The hatches allow you to store equipment below deck.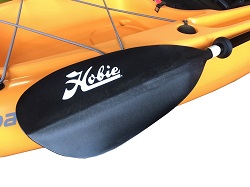 Two-Piece Fibreglass Paddles
Hobie's come complete with a two piece fibreglass paddle that can be used for additional manoeuvrability or for when you are not peddling. When not in use the paddle can be stored in the handy hull paddle holder.
Soft-touch handles are placed in the middle makes it easy to move, lift and store your kayak. Toggle handles are also found at the bow and stern.
Allows for storage below deck. The hatch is attached to a safely strap with a detachable clip.
Cargo Area with Rod Holders
Large storage area for all the gear you want to take out with you. Bungee tie downs keep it all secure. Two moulded-in rod holders are found either side.
Popular Accessories for the Hobie Oasis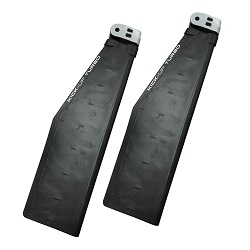 Hobie MD180 Kick Up Turbo Fin Kit
Want to go faster? The Kick Up ST (Square Tip) Turbo Fins are a fin with greater surface area to provide greater resistance through the water giving more thrust! Users report as much as a 10% or more increase in speed through the water. Not only are they faster but you can reach a cruising speed at a lower rat eof pedalling thus saving some energy and effort if pedalling over distance. This is one of the most popular upgrades on a Mirage Drive kayaks. This kit is for the Mirage Drive 180 with Kick Up ST Fins only.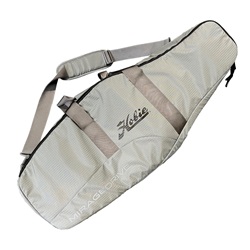 Protect your MirageDrive... and other goods in your car from the drive! This heavy duty Cordura and mesh bag fits the complete MirageDrive with standard fins or the ST Turbo length.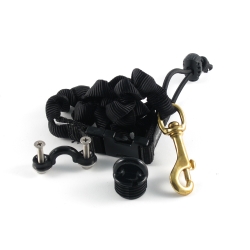 Hobie Mirage Drive Leash Kit
Protect your Mirage Drive from an accidental drop overboard! Includes hardware and instructions for attachment.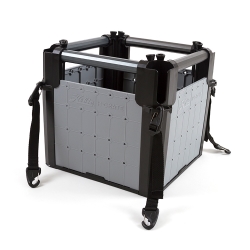 A smaller, more compact version of the H-Crate for smaller tankwells. Includes integrated rod holders and H-Rails for accessory attachment. Tie-down straps provide a secure fit to most fishing kayaks. Fits the rear cargo area of the Hobie Oasis 2022.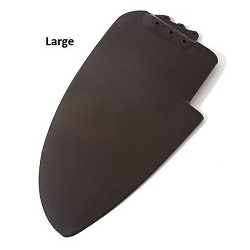 The large rudder blade allows for more responsive steering control of your Hobie kayak. This larger balde is particularly effective when sailing.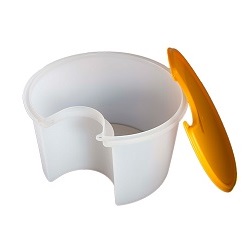 The Hobie Deep Gear Bucket is a large open storage tub that will allow large items of tackle or gear to be stored, such as a camera or small tackle box. This bucket will fit in all Hobie 8" Twist and Seal hatches except from the stern hatch on the Pro Angler kayaks.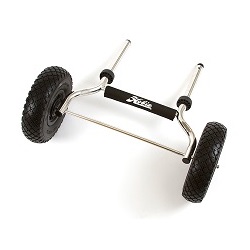 Hobie Plug-In Cart (Heavy Duty)
A Heavy Duty trolley designed for use with Hobie kayaks. Great for transporting heavier kayaks from your vehicle to the water over solid ground and rougher terrian. 225lb Capacity rating.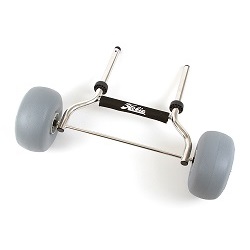 The Trax 2 Cart has 24 cm (blow-molded polyurethane) pneumatic tires. These tires have a high capacity and are very durable! Welded Stainless steel frame. Max Capacity 176lb.
Delivery
Nationwide delivery available for the Hobie Oasis 2022. Delivery price will be shown in the shopping basket prior to checkout. For full details on delivery please see: Delivery Information
Click & Collect - Stores Nationwide
Nationwide Click & Collect available for the Hobie Oasis 2022. Collection for orders placed online can be made from any of our Canoe Shops UK Stores. For full details on our Click & Collect service, please see: Nationwide Click & Collect
Give us a call on 01726 862798 if you have any questions about the Hobie Oasis 2022